BlackSheepBuilt boards begin with lightweight, 1.5lb virgin EPS and utilize the most advanced "Triax-NCF" (Non-Crimp Fabric) high-quality carbon fibre, to create a fast, responsive and lively surfboard. A board that is both lightweight and flexible, but also surprisingly strong.
"Triax" Carbon is laminated only on the deck, with a short bottom lap and sandwiched with multiple layers of 4oz, "D-size" fibreglass, top and bottom, for both durability and performance.
Engineered for rapid reaction and maintain a forgiving flex and dampened overall feel, under your foot.
The combination of both Triax Carbon and fibreglass helps BlackSheepBuilt boards feel lively and exciting, but familiar at the same time.
The unique performance of BlackSheepBuilt boards comes from the Triax Carbon, which combines a triple-axis +30/-30°/0 layup. It is an "un-crimped", multi-directional carbon, which enhances and controls torsional force from rail to rail.
The 0° nose to tail fibres, provide a lively "stringer", increasing flex rebound speed and the feeling of a quick response when loaded up under pressure.
The +30/-30° fibres control and speed up the return of torsional twisting through the length of the board.
Multi-axial carbon fibre is a great alternative to traditional woven carbon fibres because it is made up of alternately aligned layers of unidirectional carbon reinforcement.
Because it's not woven, the fibres do not "crimp" under and over perpendicular fibres, in the way that traditional woven fabrics do. The fibres lay flatter, retain less resin, and remain smoother, straighter and stronger, with more natural flex. Unlike traditional woven fabrics, there is also no 90 (degree) rail to rail carbon, which creates weak points and easy fissures for deck buckles, cracks and breaks.
The +30/-30° fabric orientation, the torsion force and pressure from the surfer's feet radiate outward to more of the rail line, creating greater drive, connection and thus control, with the edges and perimeter of the board. Strength and stability underfoot and along the rail line, work together as one.
WARNING: Carbon Fibre surfboards can easily get Hot! They're dark…and like all things dark, they soak the sun and heat up. The BlackSheepBuilt boards are made with lightweight EPS foam and a Carbon Fibre shell. 
BlackSheepBuilt boards are a high-end surfboard construction. Treat them that way. Do not leave them in your car when shopping. Do not leave them in direct sunlight, while bronzing on the beach. They will get hot and they can overheat and bubble up. Protect and take proper care of your investment. We recommend keeping these boards safe in a heat-reflective day bag. Take the bag all the way to the beach, if you plan to hang out in the sun, before or after surfing. If the boards do get dinged, let them dry out and fix them properly. With proper care and a little love, these boards will take the day-to-day bumps and bruises very well, remain light and extremely lively on the waves and provide hundreds of days of surfing enjoyment.
Blog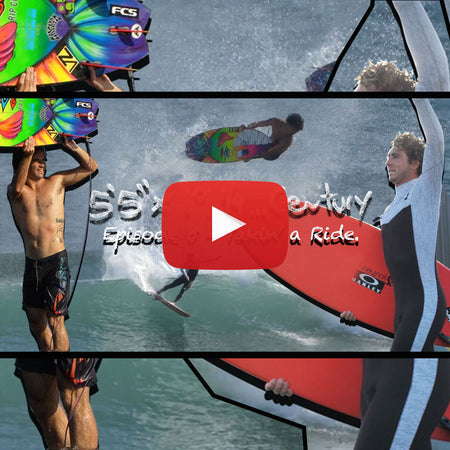 5'5″ 19 1/4…CENTURY | EPISODE 5: TAKIN' A RIDE
Episode 5 starts out in Hawaii and warms up with Mason Ho and his "pops", in some reeling rocky right runners. 
READ MORE