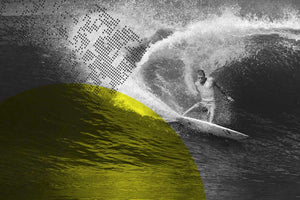 Kolohe Andino
Hometown: San Clemente, California
Stance: Regular
D.O.B: 22nd March 1994
Height: 5' 11"
Weight: 73kg
Kolohe Andino is a second-generation pro from San Clemente, California, who represented the United States at the Tokyo 2020 Summer Olympic Games after qualifying through the 2019 WSL Championship Tour.


His father Dino Andino was a former World Tour competitor and national champion in the early 1990s. After his competitive career was over, Dino traveled the Championship Tour as a team manager for Oakley with his young son in tow. Those were formative years for Kolohe. He got a head start surfing the world's best waves next to the world's best surfers and his future seemed predetermined.

Back home he won a record nine NSSA national titles as an amateur and qualified for the Championship Tour in 2012 at the age of 18. He signed huge deals with retail giants Target and Nike at the time, making him one of the richest rookies in history. Andino's electric brand of surfing is a potent blend of acrobatics and aggression.


His default approach is going big, which works for and against him. While he's won eight Qualifying Series events throughout his career he's still searching for his first Championship Tour victory, despite appearing in five Finals including two in 2019. During that time Andino married his longtime girlfriend, Madison Aldrich, and the event was attended by a who's who of San Clemente surfing legends.

His 2019 finish as World No. 5 however saw him confirmed as the first surfer selected for Team USA. However, a serious ankle injury, which forced him to retire from the Australian leg of the CT in 2021, threatened his participation. After three months of intense rehab, Andino confirmed his fitness before the Games and, as confident as ever, was on record saying his only goal was a Gold Medal.