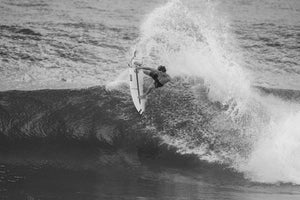 Faster. Lighter. Stronger... LightSpeed EPS
A new realm of possibilites for high performance surfing...both on the face and in the air.
LightSpeed is a new EPS board creation from the master himself, Matt Biolos. A feather light and exceptionally fast new combination, allowing you to take your surfing to new levels of speed and performance. All while keeping the board really durable for longevity. LightSpeed was developed in-house using our crew of board builders, who worked closely with the team of top flight professional surfers to create the best possible technology for high performance surfing.
What are you waiting for? It's time to grab one and go shred.
LightSpeed EPS Features:
LightSpeed is Lost's brand new ProFormance Epoxy surfboard construction built with lightweight EPS foam and high strength epoxy resin. It uses a combination of Rapid-Reflex Carbon Fiber as well as vibration dampening Innegra-Fibers, woven into the finest custom performance fiberglass cloth. Along with speed and performance advancements, LightSpeed also features:
Ultra-Light / Ultra-Lively Foam Core:
Steam molded, high strength-to-weight ratio, fused cell, water resistant, stringer-less EPS foam core.
Advanced Epoxy Resin System:
Super high-strength, flexible and impact resistant, allowing you to perform at your peak while making the board super durable.
Woven Carbon Fiber Centerline "Stringer" (top and bottom):
Engineered to add both strength and Rapid-Reflex "pop", with just enough release to feel forgiving underfoot. The Carbon loads up under foot pressure, and springs upon release.
Fused Carbon, Tail Reinforcement Patches:
Transfers more direct input into rail and adds strength.
Centerline Aligned Carbon "Exo-Stringers":
Enable natural Torsional Twist, similar to a wood stringer board, but lighter, and with a much faster reflex reaction and more "pop".
Innegra Infused, Engineered Composite Fiberglass:
A multi weave (6oz lengthwise, woven with 4oz, rail to rail) fiberglass, top and bottom, adds significant break strength, while keeping the boards ultra-light and ultra-lively.