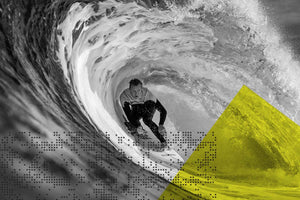 Taj Burrow
Hometown: Yallingup, Australia
Stance: Natural
D.O.B: 2nd June 1978
Height: 5' 9"
Weight: 74kg
In 2012 Taj Burrow climbed onto a Mayhem shape (a 5'9.5" 18.32" 2.18" Whiplash, to be precise) and went out to win the Quiksilver Pro, Gold Coast. Since then, he's been addicted to Matt Biolos' boards.
Part of Taj's ability to stay so firmly in the top tier mix has been due to obsession with dialling in equipment. Hailed as a pioneer of new school surfing Taj has more recently retired from a highly accomplished 18 years on the World Tour to focus on family, free surfing amazing locations and working as close as ever with Matt "Mayhem" Biolos of Lost Surfboards.
The most recent bi-products of this partnership being the Sabotaj and the Beach Buggy 2.....the follow on from the "ALL-TIME BEST SELLING AUSTRALIAN HIGH PERFORMANCE SHORT BOARD from Lost.