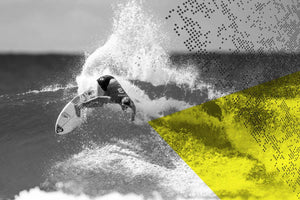 Caroline Marks
Hometown: Melbourne Beach, Florida
Stance: Goofy
D.O.B: 14th February 2002
Height: 5' 5"
Weight: 55kg
Caroline Marks is youngest surfer ever to qualify for the women's Championship Tour. She beat the previous record held by Tyler Wright when she made the grade in 2017, while still 15 years old.
Caroline honed her explosive attack in Melbourne Beach, Florida, while trying hard to keep up with her mildly abusive older brothers. They pushed her to surf harder, faster, stronger, and as tough as it was at times, she credits them for her grittiness, determination and the diversity of her repertoire.
Raised in free-range fashion by parents who wanted their tribe of six kids to play outside, Caroline, the middle child, thrived. Their big backyard had a moto track, halfpipe, and a surf break right across the street. But when her older brother launched a successful social network specifically designed for kids, the family moved to California to scale it.
Caroline became a regular in the San Clemente lineups near her new home. Immersed in a bigger pool of talent, she progressed at a faster clip, notching national NSSA titles in the girls and women's divisions, two Vans US Open Pro Junior titles and the ISA World Title before setting out on the Qualifying Series in 2017.
Because of her age, she'll be traveling the tour with one of her parents always in tow, and strategically guided by her longtime coach Mike Parsons, a former Tour pro. Caroline may be young, but she's intelligent, witty, and confident. In 2018, her first year on tour, she won the rookie of the year award and finished the year ranked No.7 in the world.