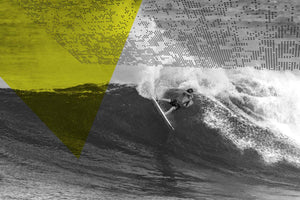 Griffin Colapinto
Hometown: San Clemente, California
Stance: Regular
D.O.B: 29th July 1998
Height: 5' 11"
Weight: 74kg
While peers have been admiring him for years, Griffin's first big public shot across the bow came in November 2016, when he landed a Hail Mary aerial-reverse in the high-stakes Hawaiian Pro at Haleiwa.
He followed with a runner-up finish to Ethan Ewing at the World Junior Championships, then made the Final of the Volcom Pipe Pro to start his steady climb up the Qualifying Series ranks.
In 2017, he became the first Californian to win the prestigious Vans Triple Crown of Surfing after making back-to-back Finals at Haleiwa and Sunset Beach. In addition, he finished the season as the 2017 Qualifying Series champion.
Colapinto's success is hardly incidental. It's all part of detailed plan he wrote down on paper years ago, thanks to his mom, Camille's, urging. His parents ran a surf camp in San Clemente during the summer months, and Griffin and his younger brother Crosby were both early adopters to the ocean. They graduated quickly to nearby Lower Trestles, where they spar regularly with many of the world's best during their free surfs.
His father Mitch is a schoolteacher, which explains why Griffin, while a total goofball, is a very astute and coachable student. When he was struggling on the Qualifying Series in 2016, he hit up former tour star Jake Paterson for guidance, and quickly earned the nickname "sponge" from Jake, who marvelled how quickly Griffin applied his input.
Meanwhile, Colapinto's solid Hawaiian performances are a direct result of his bond with the multi-talented Moniz family, who are pillars of the North Shore community. Today, Colapinto is dangerous in every kind of condition, which is why he's arguably the most feared of the next generation.