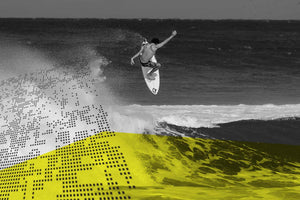 Yago Dora
Hometown: Florianopolis, Santa Catarina

Stance: Goofy

D.O.B: 18th May 1996

Height: 5' 11"

Weight: 77kg
Yago Dora was a latecomer to the whole surfing thing, despite his pedigree. As his peers began riding waves in pre-school and were dominating lineups by second grade, Dora couldn't be bothered.
Not even his father, Leandro Dora, a former pro who evolved into a high-profile coach, could coax him into the lineup early on. Yago was too busy playing soccer and the cold water near Florianóplis wasn't all that inviting.
He was 11 years old by the time the surfing bug finally bit, a good 6-to-8 years older than most of his peers. Once in, however, Yago was all in. His learning curve was steep too because his dad was already busy filming every session for high profile team riders like Lucas Silveira, Marco Giorgi, Ricardo dos Santos, and Adriano de Souza. He devoured dad's technical input, replayed his tapes, and ate up hours and hours watching Andy Irons, Kelly Slater, and Dane Reynolds clips.
Leandro didn't push the contest thing on his son or tell him to copy anyone's style. Yago was doing just fine forming his own. During trips to Hawaii and Peru, his father's videos captured the origins of an aerial dynamo. Leandro let a few clips slip out into the public sphere, and Yago's explosive approach started getting the attention of global internet powerhouses.
He became one of Brazil's first pros known as a free-surfing phenom.
His competitive attempts were half-hearted up through 2015, but after watching Gabriel Medina and Adriano de Souza capture back to back World Titles a new fire was lit. He finished No. 43 on the Qualifying Series in 2016, his first full year out. And in 2017 he became one of the biggest breakout stars of the year, nabbing two big QS wins (Newcastle, Australia, and the Azores) on his way to qualifying for the 2018 Championship Tour, while also setting the Oi Rio Pro ablaze as a wildcard.
Surfing in his first-ever CT event, Dora showcased his electrifying aerial game in front of a home-country crowd and disposed of John John Florence, Gabriel Medina, and Mick Fanning on his way to an incredible third place finish. He's already proved he belongs. The only question now is how high he can go.